Our Commitment to Inclusivity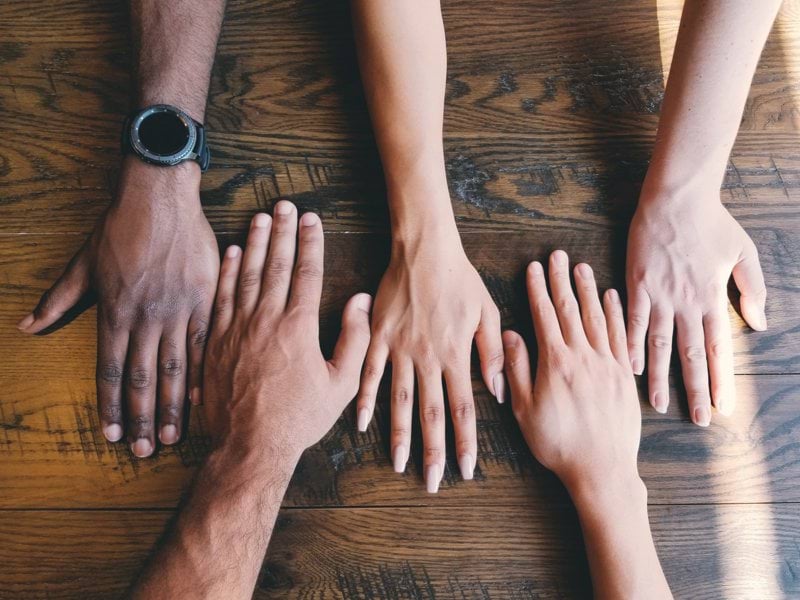 Your voice matters.
Therapy is about feeling seen, heard, and understood. At MyWellbeing, we recognize the courage it takes to practice vulnerability; to share, grieve, and heal; and to put language to our wants and needs.
We acknowledge that though mental illness does not discriminate, often, marginalized communities do experience limited access to care or higher barriers to empowerment. We at MyWellbeing are committed to building a culture where difference is valued, diverse perspectives are woven into our decisions and intentions, and all who are interested in therapy are provided an eased, more personalized opportunity to access the care they deserve.
Our mission is to reduce the stigma of therapy, to ease the stress of connecting with the right practitioner for you, and to empower every individual to develop a more loving, healthy relationship with themselves and those around them.
The only way to accomplish this mission is to work collaboratively with passionate and diverse points of view and to practice empathy and compassion, both for ourselves and for others.
We recognize we do not have all of the answers. If you would like to discuss our inclusivity practices or offer any suggestions regarding how we can improve, please let us know at connect@mywellbeing.com. We appreciate your support and perspective.
Below, we are very grateful to share a little bit more about our values here at MyWellbeing. Read our full values declaration here.
Be you not them.
We believe that the very thing that haunts you, causes you to feel different, leads you to stand out from the crowd, while sometimes painful, is often your biggest strength. In the world of therapy, we are guided by our partners-on-and-off-the-couch to learn the ins and outs of who we really are. While we may not look like your cookie-cutter expectations, we believe in our authentic mission and value, and we know that our community does, too.
There are plenty of "them" in this world. We need you.
Lead from "session" one.
We at MyWellbeing, much like in therapy, understand that some of the most rewarding accomplishments in life, and some of the most necessary changes, are some of the hardest blood, sweat, tears (and words!) we have to give.
Starting, growing, and scaling a startup is not designed for the faint of heart.
We model strength, taking ownership, stepping up to the plate, using our voice and our privilege for good, and intention-setting. We believe in radical candor and vulnerable, compassionate leadership. We set ambitious goals and then we surpass them.
Everyone deserves a seat "on the couch."
Our world is plagued with injustice. Therapy in particular is no exception.
Just two examples are that BIPOC therapy-seekers face significantly higher rates of trauma yet are regularly discriminated against in their therapy-search process; and BIPOC and LGBTQIA+ providers have long been excluded and discriminated against, leading to a severe shortage of BIPOC and LGBTQIA+ providers in our industry, despite mounting need for their perspective, lived experience, and expertise.
The time for change is yesterday. Just a few of our commitments are diverse hiring practices, partnering with leading brands to sponsor high quality therapy for Black and Brown individuals and communities in need, self-educating and proactively training our internal team in anti-racism, and partnering with Black and Brown business owners whenever possible. Read more about our specific commitments here.
Always learning.
In our world of therapy, we learn, grow, and reframe regularly. We seek (and find) meaning. We integrate our past into our present and our future.
We at MyWellbeing prefer to consider "mistakes" learning opportunities. We anticipate that, in an effort to grow, to innovate, and to provide the very best product possible to any and all who come to MyWellbeing, we will make bets, and not every bet will work out.
A failure is not a loss. We are always learning.
Don't "shrink" the small stuff.
The "little things" matter to us.
Our first priority in our decision making, whether considering a short-term product launch or a long-term strategic direction, is -- that's right -- listening to you, the therapy-seekers, therapy-curious, and therapy-providers who have brought us to life.
We do our very best to ensure that every single touchpoint with MyWellbeing is infused with belonging, love, and empowerment. We may not have all of the answers, but we want the very best for you, and we are here to help in any way we can.
We're better together. We truly believe that and we hope you will join us.